Keep your bracelets and watches well organized and accessible with this Tiered Bracelet Stand. Fabricated and hand finished with a clean, blackened patina, this display stand adds a touch of contemporary style to your vanity or dresser top.


Materials: Mild Steel
Finish: Blackened
Dimensions: 13" W x 5" D x 17.5" H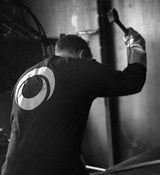 Redsoul is a design house and fabrication shop fueled by passion, every day we are energized to create something new and unexpected. Fusing the traditions of metalwork with modern design aesthetics, Redsoul has built a reputation for exceptiona...
Signature Picks products are typically fabricated and finished by hand. Minor variations in the shape, dimensions, or finish are to be expected in a handcrafted product. Steel plate inherently has variations in surface texture and tone and some products may have tooling marks or other artifacts of the fabrication process which are part of the character of the piece. Other natural materials utilized such as wood may also have variations in appearance.
Product Care Instructions
Domestic Shipping Available
Contact Us for International inqueries
Price Excludes Shipping and Handling Fees.
More information about shipping options here.
Sorry, we don't currently have a tearsheet available for this product, but be free to contact us with any questions.