The Reso Drum Table embodies a simple form elevated by a distinctive finish. The Vintage Bronze patina is hand applied, the nature of this process makes it so each Reso Drum has its own intriguing variations in tone and texture and is unique.
Materials: Mild Steel
Finish: Vintage Bronze
Dimensions: 33" W x 33" D x 18.5" H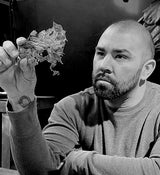 Matt Adams is a talented artist, designer, and creative entrepreneur. He is the founder of Signature Pick and the artistic energy behind Redsoul, his high-end fabrication and metal shop in Seattle, WA. His passion for collaboration and reputation ...
Signature Picks products are typically fabricated and finished by hand. Minor variations in the shape, dimensions, or finish are to be expected in a handcrafted product. Steel plate inherently has variations in surface texture and tone and some products may have tooling marks or other artifacts of the fabrication process which are part of the character of the piece. Other natural materials utilized such as wood may also have variations in appearance.
Product Care Instructions
Domestic Shipping Available
Contact Us for International inqueries
Price Excludes Shipping and Handling Fees.
More information about shipping options here.