An abstraction of human proportions, the Folding Figure builds on the contradiction between its material and form. Inspired by the traditional paper craft of origami, this sculpture finds sense of softness and malleability in contrast with the rigid nature of steel.


Materials: Mild Steel
Finish: Blackened Steel
Dimensions: 25" W x 15" D x 80" H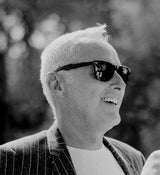 designed by
Mark MacLachlan
Mark MacLachlan remembers his love of design being sparked by his grandparent's small ranch home in California. "We spent a lot of our childhood in that house. I remember the front doorknob was large and in the center of the door…a kidney shape...
Signature Picks products are typically fabricated and finished by hand. Minor variations in the shape, dimensions, or finish are to be expected in a handcrafted product. Steel plate inherently has variations in surface texture and tone and some products may have tooling marks or other artifacts of the fabrication process which are part of the character of the piece. Other natural materials utilized such as wood may also have variations in appearance.
Product Care Instructions
Domestic Shipping Available
Contact Us for International inqueries
Price Excludes Shipping and Handling Fees.
More information about shipping options here.